Rick Phelps - Paper Mache Sculpture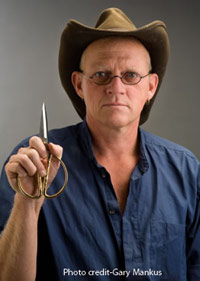 Café Pasqual's Gallery exhibits the work of paper mache sculpture artist Rick Phelps. Mr. Phelps' sculpted up~cycled pieces employ everyday found paper, all of the restaurant's menus, and other recycled items. His subjects range from tiny delicate and beautiful hummingbirds, to a life sized reclined female A~muse, made entirely of hymnal music or gargantuan profusion of tea roses in a trophy vase, and everything in between! He makes Flying Pigs, Peaceful Elephants, Day of the Dead Skulls, Bison, Cigar boxes with gorgeous horse sculptures as well as Party Animal boxes, a Toucan Riding a Turtle, piñatas and much more. His exuberant work is at once humorous and thought-provoking.
In Ricks' own words… "I once read that the Chinese word for "paper" is the root word for both "civilization" and "bureaucracy." Our material culture is built at the expense of the lives of countless trees and by the exploitation of people, animals and the earth Herself. It hurts! The by-products of a system (any organic organization) are said to be indicative of the system's health (ours has chronic issues)."
Recent shows include Donkey Gallery in Albuquerque, Salon Mar Graffe in Tesuque, and the Annual Recycle Arts Festival in Santa Fe. Currently, his works are displayed in Santa Fe at Todos Santos Chocolates and Confections, and Café Pasqual's dining room and gallery.