About Pasqual's
Cafe Pasqual's is named for the folk saint of Mexican and New Mexican kitchens and cooks, San Pasqual. Our historic pueblo-style adobe is located one block southwest of the plaza, in the heart of downtown Santa Fe. Our festive dining room is lined with hand-painted Mexican tiles and murals by the renowned Mexican painter Leovigildo Martinez, depicting the moon reveling at her fiesta.
Pasqual's is a small cafe by any standards, seating only fifty at a time, but each day the kitchen makes enormous quantities of food. We bake dozens of loaves of bread, churn gallons of ice cream, create chile sauces by the potful, hand-chop the ingredients for crocks of salsas, and perform countless other operations. We are devoted to food quality, and currently offer organic and naturally raised beef, pork, eggs, dairy, produce, sugars, flours, maple syrup, flavorings and spices!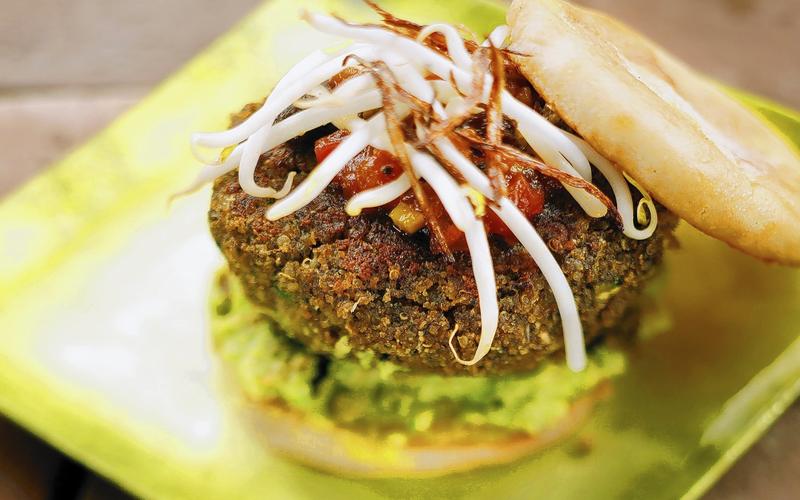 Edible Santa Fe
by Andrea Feucht, Photos Sergio Salvador

Cafe Pasqual's "One organic food and art nation under Katharine" This is a story about a restaurant. By reputation or personal experience, it is a place you know...


New York Times
By Julia Moskin, Photo by Evan Slung
"The Humble Plate of Hash Has Nobler Ambitions"
"When I was little, corned-beef hash was what we called midnight breakfast, always a treat," said Katharine Kagel, the chef. . .read more
Click here to read about us in the New York Times